Welcome
My nam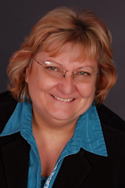 e is Michelle Burns, and I welcome you to my healing path. I created this space from the foundational belief that we are all healers, and, as healers, we each seek our own path to self-healing and knowledge. My goal is to provide opportunities to collaboratively explore helping through education, support, information and body connection.
Please enjoy exploring this site. If you have comments or questions, I would love to hear from you.
.
My Story
Michelle Burns, BSN, BSAlt.Med., LMT, MTI, CEP, BCTMB
is the founder of Advanced Holistic Healing Arts and is approved by the National Certification Board for Therapeutic Massage & Bodywork (NCBTMB) as a continuing education Approved Provider (278). Michelle began learning about health and healing at a very young age, having many experiences with hospitals and doctors as a child. Her family embraced many forms of healing, such as chiropractic, that were not common when she was a child. As she grew up, she found pleasure in "helping" others, and in her early teens, began volunteering in nursing homes and hospitals. She chose to enter the military and was assigned to Walter Reed Army Hospital, achieving a bachelor's degree in nursing from the University of Maryland. She went on to receive advanced training in surgical nursing which gave her a great understanding of the anatomy of the body. After a time, she went on to study gerontology as well as behavioral nursing and realized how connected our lifestyle choices are to our health and quality of life.
After 15+ years of nursing, Michelle was reminded of the many studies done in the 70's on the effects of touch and felt it would be beneficial to bring touch back to nursing. She attended
massage training and began incorporating massage into her nursing practice, providing healing through massage for patients recovering from injuries or severe illnesses. After several years, it became clear there was still a piece missing, so Michelle attended Everglades University at Boca Raton and completed a bachelor's degree in Alternative Medicine. Combining traditional and alternative medicine with her knowledge of healing processes has allowed her to take a unique and truly integrated approach to healing and wellness.
A natural result of her desire to help others led her to begin teaching the skills she has learned and developed. She currently teaches advanced continuing education classes for massage therapists, specialized advanced bodywork classes for Vyne Education as well as online classes including "Creating Successful Vocational Adult Learning Experiences: A Step by Step Guide" for those wishing to successfully teach adult workshops and classes and "The Business of Healing: Moving Your Business from Surviving to Thriving" for those wishing to increase the success of their business.